The Enchanted Tiki Room (Under New Management)
I understand the Tropical Serenade was having difficulty keeping butts in the seats according to my source at WDI and something new was definitely needed, but this was not it. It openly mocks Walt's original ground breaking Audio Animatronic masterpiece in an effort to get a cheap laugh. The attempt at Corporate Synergy is sicking and is a continuing cancer through out many of the parks. While I do not have a clue as to what I would replace this horrible attraction with, I would no longer sully the original with this abomination.
I had the opportunity many years ago to view concept art at WDI for a replacement that actually look like it would be a worthy replacement. It was a Cabana show with birds, but the birds a were charactures of celebrities such a Ricky Recardo as the band leader and Rodney Dangerfield or Don Rickles as the heckler. It was pretty far along as far as I remember. The only reason I could see that this idea was scraped is Disney's Corporate obsession with synergy. I know many of Walt's original ideas had ties to his movies or were inspired by them, but not all. This Cabana show had all the elements of an original concept as original as Walt Disney's Enchanted Tiki Room.
The Magic Kingdom's Pooh's Playful Corner
The sad thing about Pooh's Playful Corner is it's location. It stands on top of what was a long time favorite attraction of many Disney park enthusiast, 20,000 Leagues Under the Sea. I like Pooh and I actually like the dark ride. Granted I like the Magic Kingdom's version over Disneyland's and that partly because they ripped out the Country Bear Jamboree for a dark ride, but a meet and greet can go anywhere. So why here, it's adding insult to injury.
I guess park management felt they need something in this area since most long time park fans were disappointed when they lost 20,000 Leagues Under the Sea. I doubt very much that they are excited about meeting a pile of Pooh.
New guests to the park don't even know better and that's why WDW gets away with this kind of crap more because their guests are primarily tourists, not local residents like Disneyland.
Disneyland - The First 50 Magical Years
Once home to Great Moments with Mr. Lincoln, The Main Street Opera House is now showing "Disneyland - The First 50 Magical Years" for Disneyland's 50th Anniversary Celebration which premiered on May 5, 2005. The theater lobby contains exhibits and artwork followed by a theatrical presentation of "Disneyland - The First 50 Magical Years" which includes interviews with Walt Disney.
The lobby contains concept drawings, posters, photographs and other artwork, and a scale model of Disneyland on opening day in 1955. 50 years of Disneyland history including a collection of Disneyland ticket media through the years and tributes to cast members and imagineers all contain in the Opera House.
Featuring Steve Martin who once worked at the Magic Shop on Main Street and Donald Duck, the movie is a 17 minute humorous look at how Disneyland has changed throughout the years. After exiting the theater guests walk through the Disney Gallery, which includes many original paintings with a Disney theme. The Disney Gallery was moved to the exit lobby of the Opera House to make room for the Disneyland Dream Suite above Pirates of the Caribbean.
Is the question "will Great Moments with Mr. Lincoln ever return" the correct question to ask? Or perhaps the question we should ask is when will "Disneyland - The First 50 Magical Years" ever end? I enjoyed this attraction very much, but every year past the 50th celebration it runs is one year too long for me. I say release the film on DVD and move on.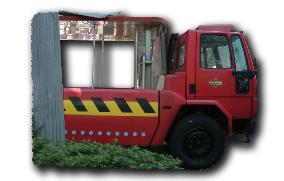 The Disney Hollywood Studios' Backlot Tour
The Disney Hollywood Studios Backlot Tour is probably seen its better days when the Disney MGM Studios actually operated as a working studio. The only version of this attraction I have ever seen is the present one. I know castmembers, ex castmembers and friends who had experienced the Backlot Tours years ago when it was actually a good attraction.
I grew up going to Universal Studios Hollywood before they called it Universal Studios Hollywood so I might be a little spoiled since I have experianced an excellant tour for many years. Mike from Micecast and I bought annual passes when they first started selling them and we spent a lot of time at the Studios. Universal's backlot tram tour back then was a two hour tour; many times we saw movies being shot, saw stars and had a great time.
At the Disney Studios backlot Tour you see no stars, no movies being shot and the only highlight is Catastrophe Canyon which is a typical special effects show. The only saving grace for this backlot tour would be for the Disney Hollywood Studios to become a working studios again. One thing the Backlot Tour does do is it helps the Studios theme park take people off the street to relieve pressure on other attractions.
But alas, it's time to end the sham of the backlot tour. Thats right I said sham. Can it be fixed. Perhaps. But for now its on my list for bulldozing in the near future.
Disney's California Adventure's Hollywood & Dine
The Hollywood & Dine in DCA's Hollywood Backlot has been "dark" for quite a while now. It used to be a food court and now is occasionally used for corporate events, training, or Disney hosted events. There used to be a really cool mural of LA in the future in the outdoor seating area, but like the food court, it is now gone.
In the past it was also used as an Annual Passholder preview area for The Tower of Terror.
Its about time this space is used for something productive. I have mentioned many times before that DCA had to many restaurants and shops and needs more attractions, but in this case, I think a unique restaurant on the order of the SciFi Dine-In would be a perfect fit for this building. The ABC themed restaurant didn't work well and is now Playhouse Disney, but it had a limited interest; daytime Soap Operas. The SciFI Dine-In similair to The Disney Hollywood Studios would be a welcome addition.
Disneyland's Innoventions
This won't take long, it sucks! I thought once, well at least this great show building is open again, but that really doesn't work for me anymore. Innoventions is nothing more than a marketing outlet for Disney computer games. It does little to showcase future technology. What few advancements it does have to show off is out shadowed by the gaming generation's hard sell.
I call for the immediate start of Blue Sky meetings for the development of an attraction worthy of this building. I don't want Carousel of Progress or America Sings back, I want something new and exciting. And if all possible, NOT PIXAR!